Investment Thesis
BlueLinx (NYSE:BXC) surprised investors with two punches yesterday. Firstly, the highly competent CEO Dwight Gibson steps down.
And then, Q1 guidance points to a truly lackluster result.
Nevertheless, I believe that the stock is really very cheap already and that everything but the absolute worst case has long ago been priced in.
CEO Steps Down
Yesterday, BXC announced that CEO Dwight Gibson would step down. Needless to say that this was a highly unexpected announcement. After all, Gibson had only been at the helm less than 2 years. And in that time, this is BXC's performance.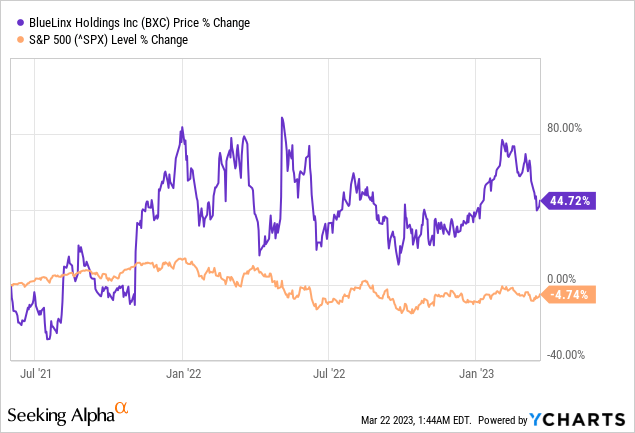 As you can see above, during his tenure, BXC easily outperformed the S&P 500 (SPX).
His replacement will be Chief Legal and Sustainability Officer Shyam Reddy. Reddy will have big shoes to fill.
Q1 Results
Update
In the graphic that follows I've taken BXC's Q1 2022 — last year's results — and disaggregated the revenues to help us visualize what's happening.
At the end of Q4 2022, last quarter, management provided the following guidance:
Specialty product gross margin in the range of 18% to 19% with daily sales volumes down approximately 15%;
Structural product gross margin in the range of 10% to 11% with flat volumes.
Now that the company is further into the quarter, it provides results for the first 11 weeks of the quarter, probably until the 19th of March:
Specialty product gross margin in the range of 18% to 19%, with daily sales volumes lower by a range of 17% to 18%;
Structural product gross margin in the range of 10% to 11% with daily sales volumes relatively consistent with the prior year's quarter.
Consequently, it appears that specialty products have been underperforming. And to compound matters, keep in mind that specialty products made up nearly 60% of the business as of last year. That will mean that the comparables with last year will be down significantly.
Furthermore, keep in mind that this guidance is worse than the market previously expected when BXC had guided for Q1 2023 together with its Q4 2022 results.
Keep in mind that BXC's specialty products were its high-margin engineered wood, siding, millwork, specialty lumber and panels, and industrial products. Hence investors are looking at margins coming in down approximately 500 to 600 basis points y/y.
Putting Everything Into Context

Investors had already been expecting that Q1 2023 was going to be a rough quarter. After all, Q1 of last year was particularly strong.
What investors hadn't expected was for its specialty volumes to be down around 200 basis points relative to BXC's prior guidance.
What's more, given that BXC's business model has a lot of fixed costs, this means that small changes on the topline will have pronounced impacts on the underlying profitability.
BXC Stock Valuation – Approximately 7x 2023 EPS
I now believe that Q1 is going to be brutal compared with the prior year. To see its EPS figure get slashed by 80% compared with the prior year won't surprise me. This would put BXC on a path to report $2.65 of EPS in Q1.
That being said, what matters here is how will BXC exit 2023. Does BXC have enough momentum in its tank to exit 2023 with somewhere close to $10.50 of EPS?
Yes, I very much believe it does. Here's why. Firstly, we know that Q1 and Q4 are typically low seasons for BXC.
Secondly, we also know that lumber prices appear to be firming up lately.
Altogether, this probably leaves BXC priced at somewhere around 7x EPS.
The Bottom Line
The one-line summary is this, BXC is cheaply valued, with a clean balance sheet, and has strong prospects for 2023.
The more nuanced summary notes that BXC finished Q4 2022 with a balance sheet in a net neutral position, meaning that its cash and debt roughly equal each other. Although, we should note that BXC does have some debt levels tied to its operating leases.
What's more, we are still talking about BXC being profitable. It's not like it carries a lot of leverage and is reporting a loss. Quite the contrary.
Furthermore, I believe that even the most bearish investors would consent that BXC's profitability in 2023 is not as bad as many would have predicted 6 months ago. After all, the news waves had been so focused on the collapse of the housing market.
Hence, if we were to assume that interest rates won't increase much more from this point, this could mean that the housing market may be close to the bottom. Meaning that from this point forward BXC's prospects should slowly uptick.
For now, we'll have to wait for BXC's first quarter results to be fully announced in early May. Stay tuned!
Read the full article here