One of the most important traits that you need in order to be a successful investor is the ability to incorporate new data into your view when it comes to an investment prospect. Far too often have I seen scenarios where investors become married to an idea and are unwilling to change their mind, even when evidence suggests that they should. I myself have lost money with this mindset in the past.
That is why, when new data came out regarding Donaldson Company, Inc. (NYSE:DCI), a company that provides filtration systems and replacement parts associated with them, as well as other offerings, revealed financial guidance for the 2024 fiscal year, I decided to take another look.
Although I am still adopting a rather neutral stance on the company, it is clear that management is doing a fine job and that some of the key markets that the company caters to continue to grow even during uncertain economic times. If we see the stock drop further and/or if financial performance comes in stronger than currently forecasted, I could see myself eventually adopting a more bullish stance. But for now, I maintain the "hold" rating that I had on DCI stock.
General strength continues
It has been several months now since I last wrote about Donaldson Company. The most recent article that I published on the company came out in late February of this year. In general, I remember feeling as though the business in question is a solid operator that has a bright future. Revenue, profits, and cash flows, for instance continued to climb at that point even in light of uncertain economic times period however, because of how shares were priced, I concluded that the stock was more or less fairly valued and, as a result, rated the enterprise a "hold."
Since then, a great deal has happened with the market more broadly. However, shares of Donaldson Company have barely budged, dipping around 1% in total. By comparison, the S&P 500 (SP500) shot up 11.8%.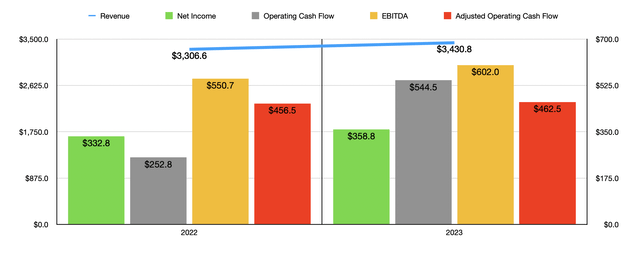 Given this return disparity, it wouldn't be difficult to imagine that fundamental performance at Donaldson Company has been lacking. But that wouldn't be an accurate representation of the company's picture. In fact, by every measure that matters, the company continues to grow. Take, for instance, revenue. During the 2023 fiscal year, for which the company recently reported financial results, sales came in at $3.43 billion. That is 3.8% above the $3.31 billion the company reported in 2022.
I understand that this barely constitutes an improvement. However, when you look under the hood, you start to see some interesting results. Most notably, revenue growth has been driven largely by two of the company's three operating segments. Some of it, though very little in the grand scheme of things, came from the company's largest segment. And that is the Mobile Solutions segment. Even though the larger aftermarket category of that segment barely budged, with revenue hovering around $1.60 billion, both the off road and on road categories demonstrative growth. Off road revenue shot up 9.8% while on road revenue expanded by 7.2%.
For individuals not familiar with Donaldson Company and its operations, this might make it sound like the company is focused on mobile technology like cell phones. But that's not the case. This unit is responsible for producing and selling replacement filters for both air and liquid filtration purposes. It also provides exhaust and emissions products. All of this is centered around motor vehicles, not only for consumer use, but also for industrial and other commercial uses. For instance, its products can be found in construction, mining, and agricultural vehicles.
This is an interesting segment for the company to focus on because, over the past couple of years, supply chain issues have severely affected the ability to produce new vehicles. However, since approximately 73.6% of sales under this segment our focus on the aftermarket customer, supply chain issues only proved to be a problem to the extent that they limited the company's ability to source enough of its products. The real strength for Donaldson Company, however, came from both its on road and off road sales, which managed to jump 7.2% and 9.8%, respectively. This disparity does make sense when you consider the clearing up of inventory concerns and the continued weakness on the OEM side of the equation because of ongoing inventory optimization. Interestingly, sales under the road and off road categories would have been stronger had it not been for foreign currency fluctuations. In 2023, they would have grown 11% and 14.7%, respectively.
The other bright spot for the company involved its Industrial Solutions segment. This is the unit, you might recall, that focuses on dust, fume, and mist collectors, as well as compressed air purification systems and air filtration systems, amongst other products. It is also engaged in the aerospace and defense markets where it produces air, fuel, and lube filtration products that are necessary for both winged vehicles and ground vehicles. Strong demand, particularly under the aerospace and defense market, caused revenue under this segment to spike 12.6%. But actual revenue would have risen by 15.6% had it not been for foreign currency fluctuations. This is also very sensible to me because, as I have written in other articles like this one here, the aviation market has largely recovered from the multi-year slump that it experienced in response to the COVID-19 pandemic.
On the bottom line, the picture for the business continues to improve as well. Net income, for instance, grew from $332.8 million in 2022 to $358.8 million in 2023. Other profitability metrics followed the same trajectory. For instance, operating cash flow managed to skyrocket from $252.8 million to $544.5 million. Though if we adjust for changes in working capital, the rise would have been far more modest from $456.5 million to $462.5 million. Meanwhile, EBITDA for the enterprise popped from $550.7 million to $602 million.
When it comes to the 2024 fiscal year that we are now in, the management team at Donaldson Company is fairly optimistic. Overall revenue for the year is expected to grow by between 3% and 7%. Thanks to some acquisition activities, the company's small Life Sciences segment should now grow by around 20% year over year. This marks a massive improvement over the 13.5% drop in sales that the unit booked in 2023. Meanwhile, the Mobile Solutions segment is expected to grow by between 1% and 5%, while the Industrial Solutions segment should pop by between 3% and 7%.
On the bottom line, the only guidance that management gave involved earnings per share. At the midpoint of guidance, this should translate to roughly $396.7 million. If we assume that other profitability metrics will rise at the same rate that Donaldson Company is forecasted to, we should anticipate adjusted operating cash flow of $511.4 million and EBITDA of $665.6 million. Using these figures, I was able to price the company as shown in the chart above. I also priced it using results from 2022 and 2023. As you can see, shares look to be at levels that at least I would consider to be more or less fairly valued. But on a forward basis, the stock is getting more appealing.
In the table below, I compared Donaldson Company to five similar companies. On both a price to earnings basis and on an EV to EBITDA basis, I found that three of the five companies were cheaper than our prospect. When it comes to the price to operating cash flow approach, two of the three firms were cheaper than our prospect.
| | | | |
| --- | --- | --- | --- |
| Company | Price / Earnings | Price / Operating Cash Flow | EV / EBITDA |
| Donaldson Company | 21.1 | 16.3 | 13.3 |
| Mueller Industries (MLI) | 6.3 | 5.3 | 3.5 |
| Crane Co. (CR) | 25.1 | 15.0 | 11.3 |
| Parker-Hannifin (PH) | 25.4 | 17.7 | 15.8 |
| EnPro Industries (NPO) | 15.1 | 19.0 | 23.9 |
| Standex International (SXI) | 12.4 | 19.3 | 8.6 |
Takeaway
Based on the data provided, it seems to me as though Donaldson Company continues to chug along nicely. Although growth might not have been as impressive in 2023 as investors may have hoped, performance was solid nonetheless. Shares are also looking decently priced on a forward basis and management remains optimistic that 2024 is going to be a good year for shareholders. Given these factors, I have no problem keeping the company as a "hold" for now. But if the stock falls much further, I could change my rating to a "buy."
Read the full article here