Overview
At its 2023 investor day held last week, Emera (TSX:EMA:CA) detailed its $8.4 billion capital plan for 2023–25. Both the energy transition themes and the EMA:CA core growth opportunity in Florida that were highlighted by the plan are, in my opinion, worthy of serious consideration when assessing the plan's potential for generating a positive return on investment. Although I have faith in EMA:CA, I have my doubts as to whether or not they will be able to carry out their plans because their credit metrics continue to be below acceptable levels. As long as this problem persists, I believe investors won't be able to look past it and see the bright future the company possibly has ahead. Importantly, I highlight my view that there is a good chance that new equity or other initiatives will be taken to strengthen the company's financial position. For this reason, I advise readers to stay away from EMA:CA stock. The last thing you want as an investor is to get diluted by both debt and new equity holders.
Financing / Balance sheet
As expected, most investors were concerned about EMA's credit strength, and management did spend some time explaining how challenges related to fuel and storm recovery had an effect on credit metrics in 4Q22. On this, management believes it can recover its cash flows organically and has estimated internally that EMA:CA CFO to debt ratio was 11% for 2022, which is slightly below the 12% threshold. In my opinion, this is really cutting it close and puts the business at heavy risk. In spite of this, management did its best to allay fears by forecasting a 50bp improvement through 2023 and a further 50bp increase every year after that. Despite knowing the growth is due to anticipated rate hikes and the beginning of LIL cash earnings, I remain skeptical given how things have progressed to this point for EMA:CA.
For the foreseeable future, management has no plans for any discrete financing actions beyond replenishing the balance sheet annually with $500-$600 million in external ATM or DRIP equity. I am pretty much against this as I see EMA:CA having the choice to sell some of it monetize some of its assets by selling it to better operators. This would ease any operational complexity and also fund the balance sheet, however, management mentioned they are not inclined to do so . Management has instead suggested preference share offerings, capex deferrals, and working capital optimization. With regards to working capital optimization, management is concentrating on Tampa Electric/NSPI fuel inventories in order to maximize the efficiency of working capital. This is something to closely monitor as if it fails, it could push management to alternative balance sheet financing methods.
To be honest, I am not a restructuring or investment banking expert, so my opinions on balance-sheet funding methods may not be the best. However, I believe execution challenges remain, and there is a risk of additional equity or other measures to address the balance sheet. As a result, I would recommend avoiding the stock for the time being.
Growth outlook
TEC and PGS are in focus for growth. These two will consume a sizable portion of EMA:CA capex budget between 2023 and 2025. Importantly, the majority of the 7-8% EMA:CA rate base CAGR is attributable to the two utilities' reliance on Florida's booming economy. Specifically, TEC and PGS each have their sights set on a CAGR of 8.5% and 13.6% for the years 2021–2025, respectively. While I understand the public's concern about rising utility costs, I believe this expansion is feasible given the positive 2%+ customer growth trends and, most importantly, stakeholder alignment. Given the positive foundation of EMA:CA's 7-8% rate base CAGR, I believe there is a realistic possibility of achieving earnings growth that surpasses the 4-5% dividend growth projection while gradually reducing the current high dividend payout ratio of approximately 90%. However, this process may be slow and involve some financing risks, as previously mentioned.
Regulatory hurdles
EMA:CA is currently figuring out how to operate within the constraints imposed by Bill 212. In light of these constraints, management has announced a new pause in EMA's Atlantic Loop investments, but they continue to back the project and regional decarbonization efforts. Importantly, a clear picture of federal funding could emerge in 1Q23, leading to a preliminary agreement in the second. At this point, what I am looking out for is for anything that might lead to fresh opportunities for EMA:CA to invest in with regards to decarbonization in the latter half of this decade.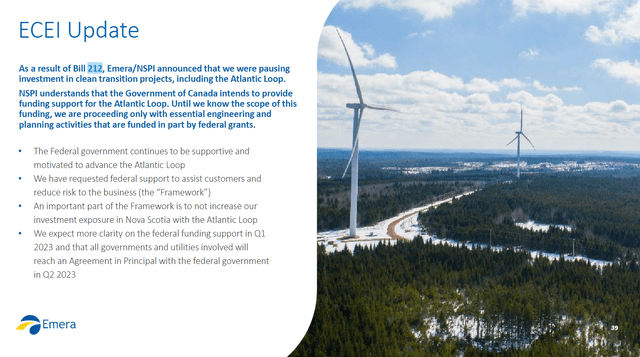 Conclusion
While EMA:CA capital plan for 2023-25 presents potential for positive returns on investment, I have doubts regarding the company's ability to carry out its plans due to its ongoing credit metric issues. Management has outlined plans for balance sheet replenishment through external equity and working capital optimization, but I believe selling some assets to better operators would be a more effective solution. That said, the growth outlook for EMA:CA seems positive, with TEC and PGS driving a significant portion of the rate base CAGR, but financing risks remain. On the other hand, the company is facing regulatory hurdles with Bill 212, which may impact future investments in decarbonization. Overall, until the company's balance sheet is strengthened, I would advise readers to avoid the stock.
Editor's Note: This article discusses one or more securities that do not trade on a major U.S. exchange. Please be aware of the risks associated with these stocks.
Read the full article here