This article was first posted in Outperforming the Market on May 25, 2023.
Since its recent Q1 FY2024 earnings report, Nvidia Corporation (NASDAQ:NVDA) has officially breached its previous all-time high and the stock has rallied almost 240% from its lows in 2022. Nvidia has been part of The Watchlist Portfolio in Outperforming the Market, so I do extensive research and coverage on the company.
I think it is important to be objective in the analysis about Nvidia and look at the facts available to us.
While there is undoubtedly some hype around generative artificial intelligence ("AI") that Nvidia is enjoying at the moment, this article aims to look at whether the Nvidia valuation today is just all hype or justified by looking at the facts available to us today after its FY1Q24 quarter.
Current quarter
Nvidia reported FY1Q24 revenues a $7.2 billion, which was up 19% sequentially and down 13% on a year-on-year basis. This was 11% higher than market consensus, which was at $6.5 billion.
The gross margins for FY1Q24 came in at 66.8%, 30 basis points higher than the market consensus.
Non-GAAP EPS for the quarter came in at $1.09, which was up 24% sequentially and down 20% on a year-on-year basis. This was 18% higher than market consensus which was at $0.92.
Out of the world guidance
While the FY1Q24 revenue and earnings beat was already an excellent achievement, Nvidia shocked the markets with an out of the world guidance.
To illustrate this, Nvidia's guidance for FY2Q24 revenue was $11 billion, 53% higher than the market's expectations of $7.2 billion. The extent of the beat was one of the biggest the markets has seen and certainly a key driver in the stock price action after its earnings.
So, I think the management team highlighted the key reason for the strong beat in the FY2Q24 revenue guidance. I'll quote what they said on the guidance, and I think it tells me that the drivers behind this guidance increase is real. Not only that, but these strong drivers also bring extended visibility into data center revenues in the next few quarters. Here is what the management team said:
Let me turn to the outlook for the FY2Q24.

Total revenue is expected to be $11 billion, plus or minus 2%.

We expect this sequential growth to largely be driven by data center, reflecting a steep increase in demand related to generative AI and large language models.

This demand has extended our data center visibility out a few quarters and we have procured substantially higher supply for the second half of the year.
Generative AI is bigger and more real than expected
One of the reasons for the guidance increase was the upside that comes from generative AI.
The company expects that in the FY2Q24 quarter, data center revenues will roughly double from the current FY1Q24 quarter.
This higher data center revenue comes from higher generative AI demand from multiple sources. This includes CSPs, consumer internet companies, and accelerated computing in enterprises.
In terms of commentaries on generative AI, Nvidia sees robust demand across cloud service providers ("CSPs"), consumer internet companies and enterprise customers. As highlight above about the increased visibility on its data center segment, Nvidia also mentioned that this visibility extends to the second half of its FY24 quarter.
I think that there is no doubt that the demand for generative AI is there and thus, driving the demand for Nvidia's data center segment. That said, supply also needs to keep up in order to not be a bottleneck. Management commented that they have already procured substantially higher supply for the expected accelerated, visible demand in the second half.
Why is Nvidia the beneficiary of generative AI as compute requirements continue to increase? I think that we will see a fast transition to Nvidia's accelerated computing platform given that it offers the lowest TCO approach, energy efficient and versatile accelerated computing platform to train and deploy AI.
The company also made comments about the total addressable market within the data center space.
Specifically, Nvidia expects that out of the one trillion dollars of installed global data center CPU installed base today, only 4% are currently GPU accelerated. As a result, Nvidia sees that this current installed base has a huge opportunity in terms of being accelerated, with GPUs progressively replacing CPUs. Of course, the driver for this accelerated compute adoption will likely come from the increasing adoption of AI, at least in the near-term.
As a result, AI adoption remains in the early innings today and the opportunity for Nvidia today is huge as companies look to deploy generative AI into more and more products, services and processes.
Data center segment is the brightest shining star
During the FY1Q24 quarter, Nvidia data center revenue was up 14% from the prior year, but as highlighted earlier, this segment will double sequentially in the next quarter.
Nvidia continues to boost its offerings within the segment, as it launched four inference platforms for LLMs and generative AI workloads that will work with the company's full-stack inference software, along with its NVIDIA Ada, NVIDIA Hopper and NVIDIA Grace Hopper processors.
Google Cloud is the first cloud provider to be offering the new NVIDIA L4 Tensor Core GPU that is meant to accelerate generative AI applications. On top of that, Nvidia saw more partners offering solutions and products based on its NVIDIA H100 Tensor Core GPU. This includes Amazon.com, Inc. (AMZN) AWS, Alphabet Inc. (GOOG) aka Google Cloud, Microsoft Corporation (MSFT) Azure and Oracle Corporation (ORCL) Cloud.
Nvidia also announced that it is partnering with ServiceNow, Inc. (NOW) to build generative AI across enterprise IT, a collaboration with Medtronic plc (MDT) to develop an AI platform for medical devices, working with Dell Technologies Inc. (DELL) to help enterprises deploy generative AI applications and integrating NVIDIA AI Enterprise software into Microsoft Azure Machine Learning to help companies speed up their AI projects.
Automotive is another growth driver
In the FY1Q24 quarter, automotive revenue was up 114% from the prior year, to $296 million.
Its automotive design win pipeline has growth to $14 billion today, rising 27% from the prior year. As I have highlighted to members of Outperforming the Market in the Qualcomm Incorporated (QCOM) deep dive, Qualcomm competes with Nvidia in this segment. It has a $30 billion design win pipeline as of September 2022, which grew more than 100% from the prior year. I continue to think of this as a very fast-growing segment with huge opportunities available for both Nvidia and Qualcomm and will look to their future design win pipelines for more clarity on their progress on the segment.
Nvidia announced this quarter that BYD Company Limited (OTCPK:BYDDF) will be extending its use of Nvidia Drive Orin for its new models.
Gaming and pro visualization segments
The gaming segment revenue came in at $2.24 billion, up 22% from the prior quarter and down 38% from a year ago. This sequential increase was a result of the outperformance of its sales of the GeForce RTX 40 series in both notebooks and desktops. In the quarter, Nvidia announced the GeForce RTX 4060 family of GPUs, and it launched the GeForce RTX 4070 GPU based on the Ada architecture, which will enable running most modern games at more than 100 frames per second at 1440p resolution.
The pro visualization segment revenue came in at $295 million, which was down 53% from the prior year and an increase of 31% sequentially. This sequential increase was a result of a robust demand in both mobile and desktop. In the quarter, Nvidia expanded its collaboration with Microsoft to connect its Microsoft 365 applications with Omniverse. It announced Nvidia Omniverse Cloud, which is a fully managed service running in Azure, which is meant for the development as well as the deployment of industrial metaverse applications.
Valuation
As can be seen below, the positive surprise in FY1Q24 earnings and the even larger surprise in the guidance led to a steep share price increase, but that is more than offset by the higher expected EPS.
Before Nvidia reported its FY1Q24 earnings, the FY24 P/E was at 73x, but after its earnings, its FY24 P/E is around 51x.
On a consensus level, Nvidia is trading at 54x FY24 P/E and 42x FY25 P/E.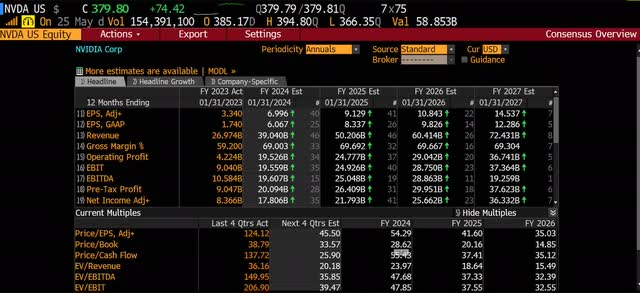 While there is a possibility of further EPS upgrades on FY25, I think that the current valuation multiple suggests that Nvidia is at least fairly valued at the moment.
As a result, while I do not recommend selling Nvidia shares at this level given the better-than-expected opportunity set of the company, I also will not recommend buying Nvidia at these levels.
As such, I am neutral on the stock at the moment and could become more constructive after a pullback.
Conclusion
I think that what we are seeing here with Nvidia and generative AI is definitely a generational opportunity in that Nvidia is in a special competitive position in being able to leverage on the huge demand for generative AI applications.
The discussion about AI recently has certainly seemed like a hype, but Nvidia proved that the demand for generative AI is real and much larger than what the market was expecting.
In my opinion, I am positive about the opportunity for Nvidia because of these three points:
Broad and robust demand from three groups: CSPs, consumer internet companies and enterprise customers.
Huge total addressable market in the current $1 trillion installed base of data centers that could be accelerated with GPUs progressively.
Visible demand for data center beyond next quarter and into the next few quarters and sufficient supply to meet this demand.
However, I think it's important to note that the current price already reflects the near-term opportunity as the stock is trading at 54x FY24 P/E and 42x FY25 P/E.
In addition, it is even more important to note that this generational opportunity will take time to play out and will not just happen overnight.
As a result, I think that it may not be wise to be adding to Nvidia Corporation stock at these levels. At the same time, I am not suggesting for investors to be selling out of their shares given the very real and huge opportunity with generative AI. Thus, I currently have a hold rating for Nvidia Corporation and will look to add if there are any constructive pullbacks.
Read the full article here