Vicarious Surgical Inc (NYSE:RBOT) is developing a next-generation robotics-assisted minimally invasive surgical system. One innovation is to incorporate virtual reality sensing and visualization allowing surgeons to see a 3D representation of the surgical field. The idea here is to offer several advantages compared to existing robotic solutions including a broader range of surgical applications at a lower cost.
A key point is that the medical device is still in development with a roadmap to commercialization a few years away. That's a problem when thinking about RBOT as an investment considering the company currently does not generate any revenue and is expected to remain cash flow negative for the foreseeable future.
Ultimately, we believe the company will require a capital raise over the next year that could dilute existing shareholders and pressure the stock price lower. With RBOT down more than 40% over the past year, our message is that Vicarious Surgical remains highly speculative, and the risks are tilted to the downside.
What Does RBOT Do?
With more than 7 years in development, Vicarious has earned some credibility through an experienced management team and recognition by the FDA with the Breakthrough Device Designation awarded back in 2019.
The device is intended to address most types of abdominal procedures within general surgery along with hysterectomies within gynecology. We mentioned virtual reality technology, but the system starts with a 1.5cm "trocar" incision which is significantly smaller than the typical 2.5cm port found in existing surgical robotic devices.
This aspect is intended to minimize complications and collateral damage, while the actual robotic arm with an extreme level of dexterity is suited for complex requirements.
Management believes the total addressable market represents a $136 billion opportunity. The initial indication planned for Vicarious is through ventral hernia surgeries where there are approximately 900k cases in the U.S. per year. The system is seen as particularly effective in operating on the abdominal ceiling where legacy robots can struggle to operate.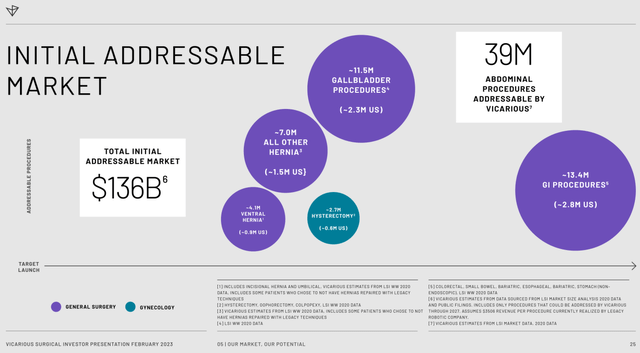 The elephant in the room is Intuitive Surgical Inc (ISRG) which is the leader in the surgical robotics segment and represents the main competition for RBOT.
On this point, one advantage of Vicarious claimed by the company is the expected lower price point and a more forgiving learning curve given the actuator design. The expectation is that with necessary approvals, the Vicarious system can be utilized in hospital and outpatient settings as a catalyst for adoption.
From there, the latest development is the launch of a simulator as a way for surgeons to become familiar with the platform. Vicarious intends to begin initial manufacturing of units that will still need certifications before a planned FDA "De Novo Submission" in late 2024. This would be the first step toward commercialization by 2025.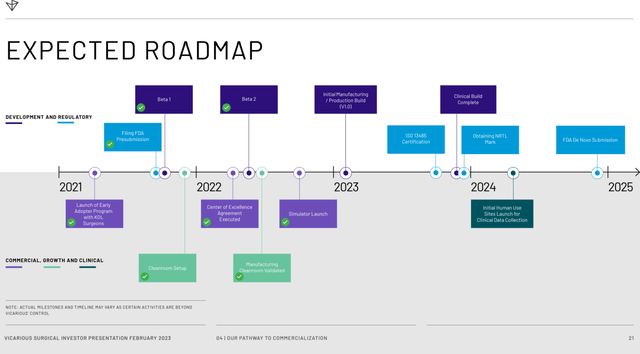 RBOT Financial Recap
Thus far, it's an interesting story where the most bullish case for the stock would envision a revolutionary game-changer for the industry. That said, investors will need to drill down a bit deeper into the financials to recognize the difficulties in reaching that potential.
Vicarious Surgical reported its Q1 financials highlighted by operating expenses at $22.3 million, a 23% increase from $18.2 million in the period last year. Within that amount, R&D spending at $13.4 million climbed from $9.9 million in Q1 2022. General and administrative corporate spending was kept flat which follows the announced layoffs in February citing a need to control costs.
Nevertheless, the adjusted net loss in the quarter at -$0.17 per share widened from $-0.15 in the period last year. In terms of its balance sheet, Vicarious does not currently hold financial debt outside of $12 million in warranty liabilities.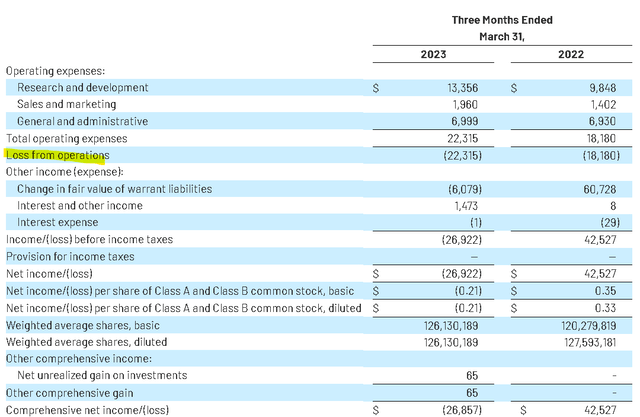 RBOT Cash Burn Problem
Again, the company does not currently generate any revenue which raises a concern regarding its liquidity. CFO William Kelly suggested the company was comfortable with 2 years' worth of cash while noting "every financing option remains available". From the earnings conference call:
At the end of the first quarter, cash, and cash equivalents were approximately $97 million, representing an overall cash burn of $18.7 million. While cash expenditures were slightly elevated for the quarter and can vary due to timing of payments, we continue to expect our full year 2023 cash burn to be between $55 million to $65 million.
From the comments above, we can extrapolate that Vicarious Surgical is on track to end 2023 with around $40 million in cash. Assuming a similar burn rate into next year, the company would effectively be tapped out by the second half of 2024.
From our experience, companies typically move to raise cash with a buffer well before running out. By this measure, we see a good chance RBOT would make a move sooner rather than later to either sell more shares or secure some other type of funding such as the issuance of convertible debt.
Naturally, these outcomes are often not beneficial to existing shareholders, particularly if there's no cash flow coming in. That's our read from the consensus estimates forecasting RBOT to remain in the red through 2025.
The current forecast is that from zero revenues in 2023, commercialization by 2025 could generate upwards of $52 million in revenue that year. Even taking that figure at face value, operating cash flows will likely still be negative over the period with the understanding that a go-to-market strategy will require significant new spending and investments to scale effectively.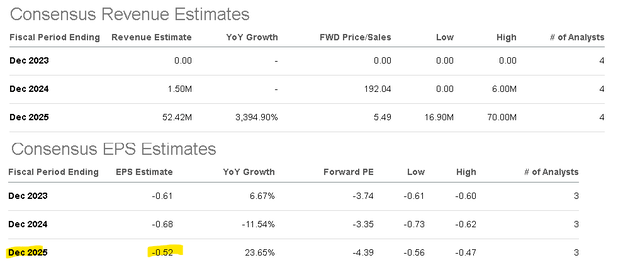 What's Next For Vicarious Surgical
We see RBOT as facing not only financial challenges but also strategic uncertainties over the next decade. Within the specialized field of Laparoscopic Surgery dealing with minimally invasive procedures, it remains to be seen the type of adoption and market response.
A bullish case for the stock would be centered around translating a major market demand for the Vicarious system into hard orders and contract revenues. A capital raise effort coinciding with the announcement of a major multi-year contract across a healthcare network, for example, is the type of development the stock may need to gain momentum and accelerate higher.
The main risk is the potential for regulatory setbacks or delays in ramping up production. We remain skeptical that the Vicarious system is the real breakthrough it claims to be, also considering the ability of established competitors to respond. Intuitive Surgical, for example, is moving forward with efforts to enhance its "Da Vinci" system with artificial intelligence and virtual reality elements.
Final Thoughts
Vicarious Surgical remains a story stock with a lot to prove. With a current market cap for RBOT of approximately $275 million, the market is valuing shares based on a growth runway that is far from certain. Given the lack of near-term catalysts and questions regarding capital requirements over the next several years, we see room for shares to continue trending lower.
Read the full article here